Sexy Nerd Costumes For Women make excellent Halloween costumes. Brains have always been sexy, so why not play up that sexy nerd look for a Halloween party? Can you imagine how heads will turn when you come strutting in with a short skirt, suspenders, and some trendy nerd glasses? And don't forget the sexy shoes to go with your costume! Jaws will drop!
A nerd costume isn't just sexy, it's also fun. You can spend the party in character to make things more fun. Remember Screech's nerdy girlfriend in saved by the bell? Wasn't she just adorable and sexy, even when she laughed till she snorted?
Nerd used to be an insult, but I think it's become more of a compliment to people who identify with the stereotype. Nerds are cool….that sounds odd, but it's true. Not all real nerds wear glasses or dress nerdy, but Halloween is all about exaggerating reality and having fun.
Below you'll find a variety of Sexy Nerd Costumes, nerdy glasses, sexy shoes, and more! Don't forget to fix your hair in pig tails, and you could even carry a book to add to the costume. This costume can be amazing, and you're only limited by your imagination when choosing the costume and accessories.
Sexy Nerd Costumes can be paired with a Football player costume, jock costume, prom king costume, men's nerd costume, or a costume from Star wars. Maybe I have a sick sense of humor, but I think this would go great with a Darth Vader costume for a couple's costume since most people think Star Wars fans are nerds.. This could also be a great addition to a group costume.
Sexy Nerd Costumes For Women From HalloweenCostumes.com
There are some cute and sexy nerd costume here and in the next section. Some costumes might be in both places because you can get them from both Halloween Costumes .com and Amazon.  Prices coud be cheaper in one place than the other, so check both.
Sexy Class Nerd Costume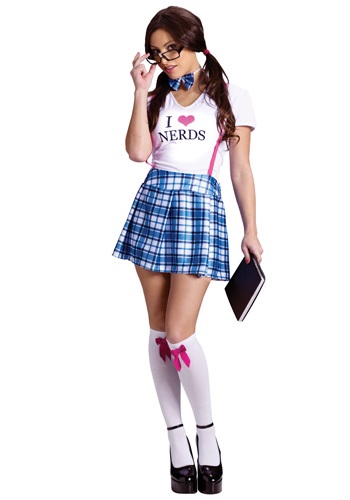 Sexy Nerd School Girl Costume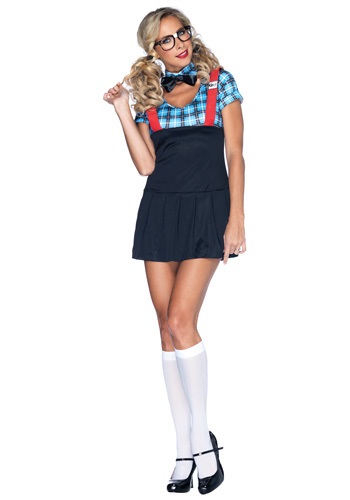 Naughty Nerd Costume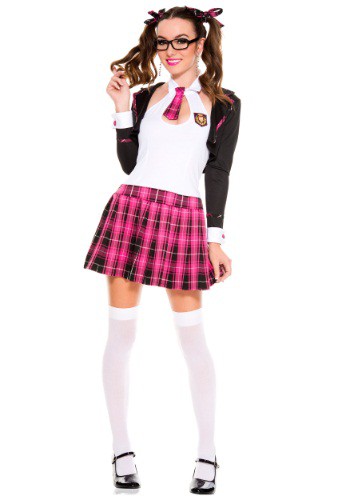 Women's Class Nerd Costume

Domo Nerd Costume

Doctor Who Tardis Ballerina Dress

More Sexy Nerd Costumes For Halloween From Amazon.com
Leg Avenue Women's 4 Piece Naughty Nerd Costume, Blue, Medium/Large
Roma Costume Women's 5 piece Seductive Smarty, Tan/White, Small/Medium
Dreamgirl Women's Nerdy Talk Schoolgirl Costume Set, Nerdy Talk, One Size
Leg Avenue Women's 4 Piece Class Nerd Costume, Red/White, Medium
FunWorld Women's I Love Nerds Costume, White/Blue, Medium/Large 10-14
MUSIC LEGS Women's Class Nerd, White/Pink, Medium/Large
Forplay Bad Apple Glasses, Bow Tie, Shirt, Suspenders, Shorts, Gray, Small/Medium
Roma Costume Women's 5 piece Seductive Smarty, Tan/White, Small/Medium
Adult Women Sexy School Girl Hallowen Costume Naughty Teacher Dress Up & Role Play (One size fits most, black)
Adam's Temptation Tempting Nerd Sexy School Girl Costume Set (Medium)
Forum Novelties Women's 50's Nerd Girl Costume, Multi, Medium/Large
MUSIC LEGS Women's Hot Nerd, White/Pink, Small/Medium
School Girl Shoes For Sexy Nerd Costumes
These will go great with sexy nerd costumes, and they're great to wear after halloween.  Just choose the style you'd most likely wear after Halloween.  I love the Plaid ones!
Journee Collection Womens Matte Finish Classic Mary Jane Pumps Black 10
Funtasma by Pleaser Women's Platform Mary Jane,Black Patent,8 M
Show Story Glam Mary Jane Red Vintage Stylish Cut-out Heels For Women,LF30464RD40,9US,Red
4 Inch Womens Gothic Shoes Studs Bow Pump Mary Janes Chunky Heel Size: 11
Thigh highs For Sexy Costumes
Thigh highs add that extra touch to any sexy costume and are great for lingerie as well.
Leg Avenue Women's Opaque Thigh High Stockings With Chiffon Ruffle And Satin Bow, White/Black, One Size
Leg Avenue Women's Sheer Thigh High Stockings With Satin Bow, White, One Size
Gilroy Women's Stretch Thigh High Stockings Lace Bow Over The Knee Socks (White + Red Bowknot )
&
Sexy Nerd Glasses For Halloween
Choose the cutest style of nerd glasses for your costume.  The middle glasses are kid sized for small faces, but there are adult sizes on each side.   There are different colors, just click the image to see which ones.
Newbee Fashion® – Hot Sellers Nerd Geeky Trendy Cosplay Costume Unique Clear Lens Fashionista Glasses
FancyG® Cute Nerd Glass Frame with Bow Tie Cat Eyes Whiskers Eyewear for Kids 3-12 NO LENS – Black with Red Bow
FancyG® Retro Vintage Inspired Classic Nerd Wayfarer Round Clear Lens Glasses Eyewear – Black
Related Costumes Or Nerd Costumes For Couples Costume
These will pair nicely with the Nerd costumes above.  There are boy nerds, candy nerds, nerd accessories, and also Gandolf, Star Trek, and Darth Vador because people think of the shows/ movies are nerdy.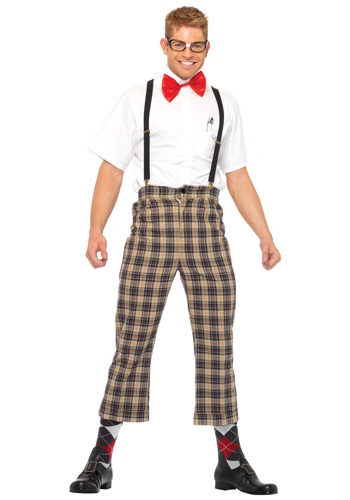 Mens Nerdy Nerd Costume

Mens Nerd Costume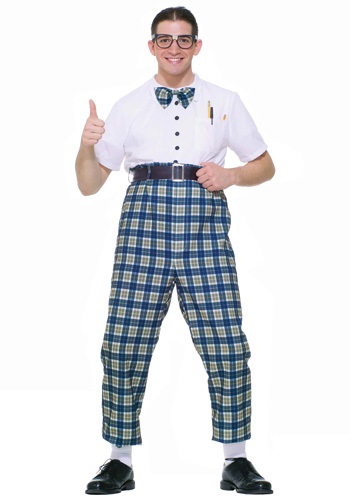 50s Class Nerd Costume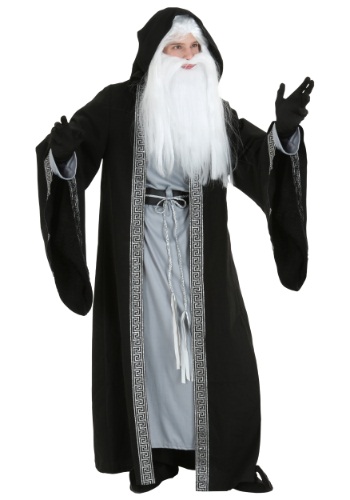 Adult Deluxe Wizard Costume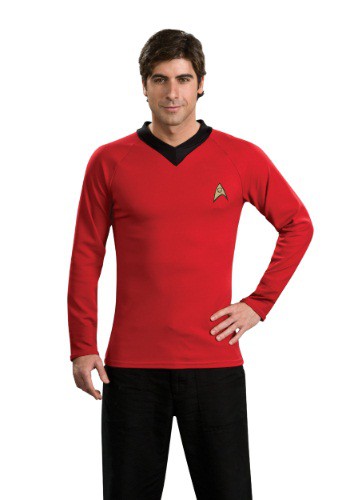 Star Trek Classic Deluxe Scotty Shirt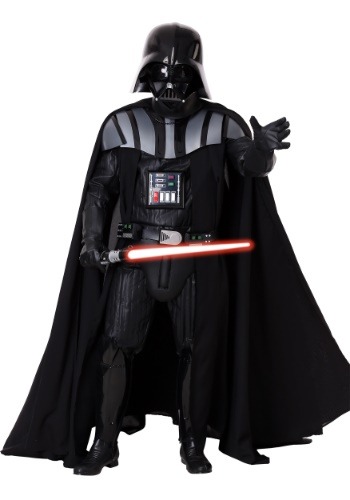 Authentic Darth Vader Costume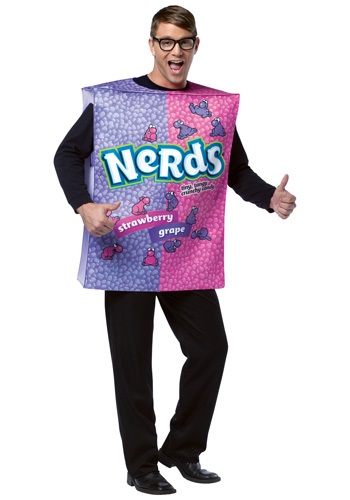 Adult Nerds Box Costume

Nerd Ruler Paddle and Frames

Nerds Tank Dress

USB Port & Drive Costume