Forum Pippi Longstocking Wig, Red, One Size

Here you'll find the perfect Pippi Longstocking Costume For Halloween for yourself or child, Pippy Longstocking wig, and accessories. I've featured a variety of Pippi Halloween Costumes for you to choose from.  Some of these are actual Pippi Costumes, and some are rag doll costumes that can be worn with a Pippi wig for a cute and unique Pippi costume.
The New Adventures of Pippy Longstocking is a beloved kids movie from the 80's about a little girl who is adventurous, unique, fun, and independent.  She teaches kids several lessons including using your imagination, finding the fun in everyday objects, kindness, compassion, and believing in yourself.  She was a childhood hero for many kids in the 80's and early 90's, but she's still relevant today.
Recently my 9 year old watched Pippy with me for the first time and he thought is was a great movie.  What he loved more than anything was seeing her scrub the floor with scrub brushes on her feet, something we'd done together with socks.  After watching the movie, I ordered mop shoes for us to use, and I can't wait to surprise him with him.
Halloween is about imagination and fun, and those are what Pippy was all about.  If you want to reminisce about your childhood, this costume could be perfect for you to wear to a Halloween party or to hand out candy, or if you have a little girl you could watch the movie and then both dress up as Pippy.
If you love sexy Halloween costumes, there are options for sexy Pippy Longstocking costumes, but also more traditional ones.  I've also added some other options for you to put together a rag doll or ragamuffin costume, just choose one and add the iconic Pippy Longstocking wig.
Below you'll find both kids and adult costumes, Pippy Longstocking wigs, accessories, and costume props.  Happy Halloween!
Sexy Pippi Longstocking Costume

Adult Pippi Longstocking Costume

Choose A Kids Pippi Longstocking Costume For Halloween
These Pippi costumes for kids are adorable.  They're great for toddlers and kids.  My favorite is the blue and yellow dress, but all of these would work well for a Pippi or rag doll costume.  Pipi is such a fun character, and your kids will love dressing as her for Halloween this year.
Toddler Pippi Costume

Child Pippi Costume

Rag Doll Kids Costume
Forum Novelties Rag Doll Child Costume, Medium
Rag Doll Girl Child Small
Kid's Rag Doll Costume (Size:Medium 8-10)
RG Costumes 91229-M Deluxe Rag Doll Costume – Size Child-Medium
Adult Pippi Longstocking Costumes For Halloween
If you loved Pippi as a child, dressing up like her for Halloween could be a great way to honor your childhood.  Pippi did what she wanted, when she wanted, and she was awesome in every way.  What could be more fun on Halloween?
Adult Pippi Costume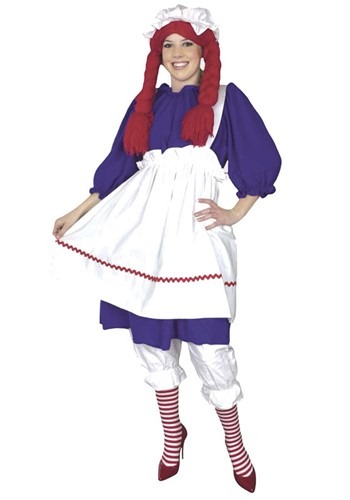 Plus Size Rag Doll Costume

Plus Size Adult Raggedy Ann Costume

Adult Miss Raggedy Ann Costume

&
Sexy Pippi Longstocking Costumes For Halloween
Pippi Longstocking did what she wanted and didn't care what anyone though, so what costume would be better than this one to make a little more provocative for an Adult Halloween party? There's nothing wrong with dressing a little sexy from time to time, especially on Halloween.  All of these are cute, but the first two are the most sexy and would look the best for a Pippi costume.   Just don't forget the wig below!
Womens Pippi Longstocking Costume

Sexy Rag Doll Costume

Sexy Halloween Costumes Raggedy Ann Ragdoll Costume Womens U.S. Small/Medium
Adult Pippi Costume

Starline Women's Sexy Long Stockings Costume with Wig, Blue, Small
Pippi Longstocking Wigs For Adults or Kids
These Pippi Longstocking wigs will finish off your costume and no one will be able to mistake you for someone else.
Forum Pippi Longstocking Wig, Red, One Size
Girls Red Pig Tail Wig with Braids
Wirobraids Wig Costume Accessory
Adult Red Farmers Daughter Pig Tail Wig
Pippi Wig

Pippi Longstocking Shoes For Kids and Adults
The top two boots are great choices for adults because they're similar to what Pippi wore, only with sexy heels.  The kids are the two bottom choices, and are both very similar to what she wore in the movie.  All of these shoes can be worn again after Halloween, so they're a great value.
Top Moda Polish Military Lace Up Platform Chunky High Heel Ankle Booties,Black_Polish-47,9
Ellie Shoes Women's 253 Amelia Slouch Boot, Black Polyurethane, 8 M US
JJF Shoes Mango-31 Kids Black Round Toe Military Lace Up Knit Ankle Cuff Low Heel Combat Boots-13
TuffRider Children's Starter Front Zip Paddock Boots, Black, 3
Pippi Longstocking Pirate Accessories  And Props
Some of the most memorable parts of the movie can be brought to life with the props below.  Pair the costume with pirate accessories, carry a monkey backpack for Mr. Neilson, or wear scrubbing shoes.  The scrubbing shoes remind me of one of my favorite parts of the movie.
Pirate Accessory Set
Be Wicked Women's Pirate Hat, Black, One Size
Evriholder Slipper Genie Microfiber Green Cleaning Dusting Mopping Shoes Fits Womens Size 6 to 9
HomeTop Plush Fluffy Cute Animal Microfiber Mop Cleaning House Slippers, Shoes For Women 8-9 (L, Brown / White Dog)